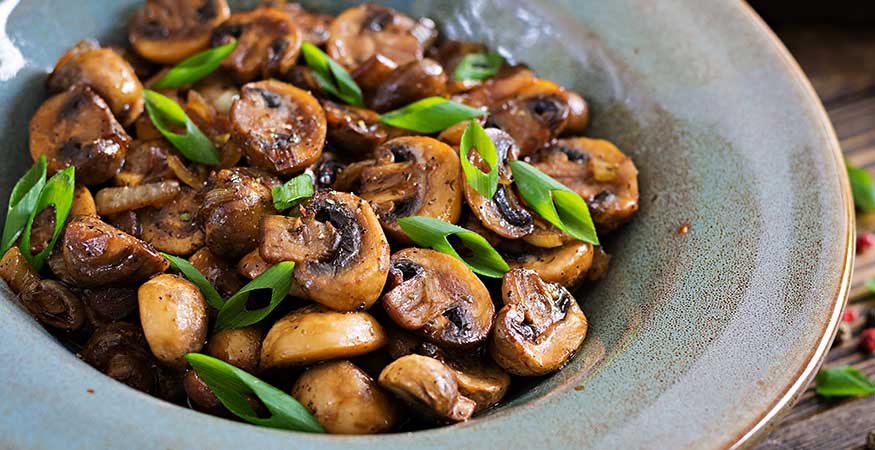 Fresh Culinary Mushrooms | A Guide from My Fungi
Are you looking for ways to eat more healthily? One of the best healthy food selections is gourmet mushrooms! From luxury truffles to your trusted chanterelles, there are so many possibilities that await. Here's a quick glimpse to learn more.
History of Culinary Mushrooms
Archeological evidence suggests that mushrooms have been used since prehistoric times when they are considered sacred and special. Cave arts and drawings also prove that they have been part of the human culture during tribal times for religious gatherings.
Later on, they have been recognized for their impressive attributes. The Ancient Romans and Greeks were believed to be the first ones who used mushrooms for culinary purposes.
Mushrooms have been part of different dishes and recipes because of their delicious, savoury, and umami flavour with a meaty texture. When it comes to food value, mushrooms are low-calorie and rich in protein. Due to this nutritive quality, they have gained popularity among vegetarians and are even called the meat of the vegetable world.
Surprisingly, mushrooms have been around and popular even before civilization.
How to Identify Fresh Mushrooms
When you purchase mushrooms in a farmer's market, you can see that they have several methods to keep the mushrooms fresh. However, mushrooms may start to spoil after you buy them.
A mushroom is good when it smells natural, earthy, and fresh. Once it starts to smell bad, it can be an indication that they are unfit to eat. When the mushroom starts to spoil and has dark spots or wrinkles, you must properly dispose of it already.
The mushrooms are starting to rotten when they are wrinkled and the grills are darkened. These are signs that you need to throw them away. After purchasing them from a farmer's market, they are more likely to last up to ten days. But this requires a proper storing process to keep them good and fresh.
To sustain the quality of the mushrooms, seal them in a porous paper bag to absorb the moisture or place them in a zip-lock bag before putting them inside the freezer.
How to Cook Fresh Mushrooms
Mushrooms are great accompaniments to different food recipes including soups, types of pasta, and sauces. They taste really good and make a perfect meat substitute. Since mushrooms have a fantastic and savoury flavour, they can be added to any recipe or specialty.
Usually, one can simply saute mushrooms in olive oil, pair them with pasta, or include them in a salad dish. But according to the International Journal of Food Sciences and Nutrition, the healthiest way to cook mushrooms is to grill them. That way, all of the nutrients present in mushrooms are well-preserved.
Nutritional Value of Mushrooms
There are varieties of mushrooms such as porcini mushrooms, oyster mushrooms, white button mushrooms, Oregon mushrooms, Shiitake mushrooms, morels, portabello mushrooms, and others. All of these are providing amazing nutritional value.
Aside from their incredibly delicious taste, mushrooms are a great source of health-boosting minerals and vitamins. They have many nutritional benefits almost similar to vegetables, meat, and grains.
They are cholesterol-free, gluten-free, fat-free, and low in sodium. They are also loaded with a bunch of following nutrients like Vitamin D, B Vitamins, Riboflavin, Niacin, Copper, Potassium, Selenium, and more.
Why Use GMP Mushrooms
To ensure that you are buying quality products, you should look for those manufacturers who are compliant with CGMP or the Current Good Manufacturing Practice. From a selection in the market, the ones with certifications from FDA can be the most trusted.
With GMP mushrooms, you can be sure that the foods are safe to consume since they are FDA-approved products. You can also get the assurance that what is declared on the label is true.
Gourmet Mushrooms Recipe Samples
Oyster Mushroom Soup
If you're looking for a new recipe to add to the menu, this super easy oyster mushroom recipe is perfect. It will only take you one hour and ten minutes to finish the dish.
Ingredients:
1 tablespoon tomato paste
2 cups oyster mushrooms, chopped
2 tablespoon parsley, chopped
1 teaspoon ground black pepper
1 tablespoon olive oil
2 green onions, chopped
2 medium white onion, diced
2 cloves garlic, chopped
½ cup carrots, chopped
½ teaspoon salt
½ cup pasta
½ tablespoon lemon juice
5 and ½ cup hot water
Instructions:
Heat the olive oil over medium-level heat in a large pot.
Add the garlic, white and green onions, and carrots until they become tender.
Add the tomato paste and stir it for two minutes.
Add the oyster mushrooms, pepper, salt, and parsley. Cook them for 10 minutes over medium-level heat.
Then put the dry pasta, hot water, and lemon juice. Let them boil and simmer for not more than 15 minutes.
Mix it well and cook for another 30 minutes as you reduce it to low-level heat.
Add freshly ground pepper and other seasons, if desired.
Then, it's ready! You can serve it to up to six people.
Shiitake Mushroom Pasta
Make the best creamy Italian cuisine in just less than 30 minutes!
Ingredients:
1 tbsp extra-virgin olive oil
zest and juice of 1 lemon
2 tbsp fresh parsley finely chopped
400 grams of pasta
300 grams fresh shiitakes stem removed and roughly chopped
2 garlic cloves peeled and lightly crushed
160 grams creme fraiche
freshly-cracked black pepper
Instructions:
Boil a large pot of water. Then wait until it boils and add salt. Fold in the pasta and cook it until 8 minutes or more depending on product instructions.
Remove and set aside the pasta cooking water from the pot.
Bring the large pan and heat 2 tbsp of extra-virgin olive over medium-low heat.
Put the mushrooms and garlic, and sautée for 10 minutes.
If necessary, add a little pasta water then season with sea salt and black pepper.
After draining the pasta, put it in the pan with the shiitakes, pour the remaining cooking water.
Sautée all the ingredients for the next two minutes.
Remove the pan from the heat.
Stir in the chopped parsley, creme fraiche, and lemon zest,
Sprinkle freshly cracked black pepper.
The Future of Culinary Mushrooms
With all the substantial amount of nutrients that mushrooms have, they are absolutely one of the foods in the wellness trends that are making an important contribution in several recipes.
For that reason, the demand for mushrooms is rapidly increasing across the globe as customers search for incredibly delicious and nutritious foods. They are ready to take over the world!
My Fungi Uses GMP, Science, and Technology to Grow Culinary Mushrooms
Indeed, the mushroom industry is set to change the planet. My Fungi is very proud to say that we are a strong addition to the fungi farms in Canada. With our passion for amazing products, technologies, and logistically innovations, we are excited to grow a community of mushroom lovers and enthusiasts.
We will grow mushroom farms wherever you are, with Good Manufacturing Practices to ensure you get the best mushroom products that you deserve! Join us and see the My Fungi difference